Motorcycle Wreck
Motorcyclists are extraordinarily vulnerable to severe injuries as a result of someone else's inattention on the roadway. While bikers enjoy the same rights and responsibilities as car and truck drivers, many car and truck drivers don't behave as if they do; frequently neglecting to check for bikes in their rearview before making lane changes, or making it difficult for riders to change lanes themselves.
We understand the call of the open road that motivates bikers, and we also understand how bikers can feel like they are singled out for rough treatment by other road users.
If you've been injured because some fool wasn't paying attention, then you're entitled to compensation for your injuries.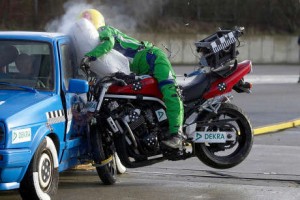 In order to maximize the amount of compensation you're entitled to, you need to retain an attorney.
If you rely on the negligent driver's insurance company to pay you what you're legally entitled to, you're being as foolish as the driver that caused the accident in the first place. That driver's insurance company wants to pay you the lowest amount it can get away with, and get you to sign a release of all your claims against its insured driver.
In order to recover what your case is truly worth, you need a lawyer who knows the law, who knows what a case is worth, and can make an accurate determination of your case's value, and then fight for that value and nothing less.
Moreover, if you've just been hurt, you should be focused on your health and your recovery. You don't want to be dealing with an aggressive and persistent insurance adjuster who wants to throw you a laughable settlement and close your file.
Even your own insurance company cannot be trusted to give you good advice. They may be worried that you will make a claim on your uninsured or underinsured policy, if you have one, and they'll do what they can to minimize the value of that claim.
The bottom line is that while we all pay premiums to insurers in order to shift the risk of loss to them, the sad fact is that insurance companies have bought sufficient political influence to make it impossible for someone without an attorney to properly hold them to their burden.
If you choose us to represent you we act aggressively to force the insurance companies to do their job so you can apply your focus and efforts where they are most needed; on the process of repairing your health and well-being after a traumatic event.
We help with that too if need be – by referring you to one of the physicians or treatment facilities inside our extensive network of care providers who will work for the promise of payment from the proceeds we collect on your behalf.
CALL US TODAY TO MAXIMIZE THE VALUE OF YOUR PERSONAL INJURY CLAIM. 214 575 6060. WE ARE DALLAS PERSONAL INJURY LAWYERS. WE KNOW TEXAS INSURANCE. WE KNOW TEXAS LAW.
We also handle traffic ticket and misdemeanor criminal defense in Dallas and it's surrounding cities. Visit these links to find out more: